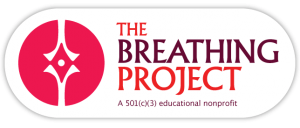 Leslie Kaminoff founded The Breathing Project in 2001 as a 501(c)(3) nonprofit dedicated to the sharing of educational, community-based programming related to yoga, anatomy and health enrichment. From 2003 until mid-2017 the main vehicle for this mission was the physical studio we ran in New York City.
The Breathing Project is continuing its mission of community service by producing and co-sponsoring workshops, immersions, symposia and publications featuring thought leaders from the fields of yoga, anatomy, somatics and other allied fields.
We also offer a fundraising umbrella to facilitate donations to individual and small groups for whom starting their own nonprofit organization would be impractical.
To these ends, we offer you the chance to make a tax-deductible donation to fund our general operations, or a specific initiative, and to sign up for occasional mailings that will alert you to scheduled events and projects.
Leslie looks forward to great things ahead and offers heartfelt thanks for all the support provided over the years. If you have a suggestion for an initiative that The Breathing Project can help with, feel free to contact him.
The list below features a sample of notable events and sponsored Breathing Project programs through the years:
May 30, 2002, produced a sold-out Vedic Chanting Concert with T.K.V. Desikachar and his family.
March 2003 – July 2017, opened and operated The Breathing Project's New York City studio, dedicated to teaching the individualized, breath-centered principles of Yoga inspired by the tradition of Desikachar and Krishnamacharya. Amy Matthews subsequently joined the faculty as Leslie's partner in teaching, managing this unique space, and writing.
Fall 2003-Summer 2017, hosted 14 consecutive years of highly regarded Yoga Anatomy courses dedicated to elevating the educational standards of yoga teachers and other movement professionals. This led to the development of online courses, inviting people around the world to participate in Leslie's Principles and Practices and Amy Matthews' Embodied Asana and their co-created Fundamentals, the only online + in-person yoga anatomy course designed specifically for beginning yoga teachers.
2004 – 2017, hosted and sponsored "Yoga for Mental Wellness" providing yoga classes in the community and in hospitals at no charge. supported by grants from the Evelyn E. and Richard J. Gunst Foundation, the Corcoran Cares Program of the NYC Soho Office of The Corcoran Group.
September 8-11, 2005, Co-produced with Kripalu Center for Yoga and Health a 4-day symposium: "The Future of Breathing."
September 20, 2005 hosted a fundraiser for The Krishnamacharya Yoga Mandiram's building fund.
2008 – 2015, Co-produced with Kinesis, Inc. a series of anatomy-based workshops featuring Tom Myers co-teaching with Leslie Kaminoff and Amy Matthews
October 24-25, 2015,  Produced symposium "The Future of Breathing 2" at The Breathing Project studios.
April 1 & 2, 2016, Produced "Beyond Anatomy," a Somatic Symposium with Leslie Kaminoff, Amy Matthews and Peter Blackaby.
Spring, 2017, sponsored initial fundraising drive to convert The Breathing Project's studios into the "Babies Project."